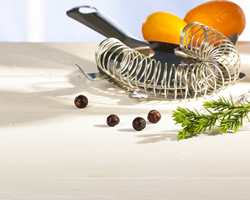 4 cl Cala Kumquat gin
2 cl Vermouth
1 cl Kumquat liqueur or orange liqueur
2 cl pineapple juice
ice cubes
Garnish:
jigger
shaker
strainer
old-fashioned wine glass
Pour the ice cubes and all the ingredients into the shaker and close it tightly.
Shake it vigorously for 30 seconds.
Place the strainer on the opening to pour the drink into the serving glass but not the ice cubes.
Garnish the rim of the glass with a piece of pineapple.
Enjoy the tangy freshness of this cocktail with its golden highlights.